PlayBlox Frequently Asked Questions
Does PlayBlox comply to safety standards?

- PlayBlox equipment is Built Safe; designed, built and certified in accordance with NZS5828:2015 Playground Equipment and Surfacing Standard and NZ5828 Appendix A: Supervised Early Childhood Education Services.

Can PlayBlox be left outside?

- Yes. PlayBlox are made from PolyPlay plastic (Polyethylene), which will not rot of fade in the rain or sun. PlayBlox should be kept in a secure area which cannot be accessed after hours to reduce chance of theft.

What are PlayBlox warranty?

- We warrant all our products to be free from defects (in material and workmanship only) for a period of 5 years, applied from date of original invoice. Please see our warranty page for information.

I already have existing movable boxes, can I connect PlayBlox to them?

- Yes. We have adapters which allow you to connect PlayBlox items with your existing equipment. See our website for "Adaptors" under the Add-on tab and checkout our videos!

How hard is PlayBlox to setup?

- PlayBlox comes fully assembled and wrapped, it is as simple as unwrapping and lifting the PlayBlox items into place! We recommend 2 adults to lift and fit the items.

What are the freight costs?

- Currently dependent on location. Please use add to quote button or call us for a freight quote.

How long to receive my PlayBlox order?

- PlayBlox is 100% Kiwi made and manufactured on order, we aim to have our orders fulfilled in 3-4 weeks from order (excluding freight, in some locations allow 1-week freight).

How durable is PlayBlox?

- PlayBlox are made from our award winning and unique PolyPlay (Polyethylene), which will not rot of fade in the outdoors. It is an incredible durable and robust material that is very easy to clean. PlayBlox boxes and activity steel work is made from a unique and durable coatings system, which includes pre-galvanised materials, then a layer of zinc shield is baked on ensuring thickness and adhesion. A final polyester colour layer is applied and baked. All fastenings are stainless steel. PlayBlox is built tough to last in NZ harsh climatic conditions and ensures your investment lasts for many years to come!

Who do you sell PlayBlox to?

- Typically, we sell PlayBlox to Supervised Early Childhood facilities, Early Learning Centers, Play Area Architects and Landscape Designers / Builders.
Conditions of Warranty:
The warranty does not cover parts that are subject to normal wear and tear, weathering and replacement requirements, nor does it cover acts of damage, vandalism, misuse, neglect, accident, or if altered in any way or added to other than by Park Supplies & Playgrounds Ltd.
The warranty does not include damage caused by neglect where the onset of a defect should have been identified through the implementation of a regular inspection and/or maintenance programme as per our guideline's booklet. This includes self-operational inspections using the inspection guidelines on page 13 and an Annual Level 3 Inspection from a recognized and certified RPII inspector.
The warranty excludes weathering; be it warping, twisting, cracking, splitting, or blemishing of timber or plastic components.
The warranty does not cover cosmetic items such as scratches, dents, marring, fading, weather, abnormal climate conditions, rust, or redecorations.
The warranty excludes freight, travel or installation of the warranty repaired or replaced item.
Effective date: 24/04/2019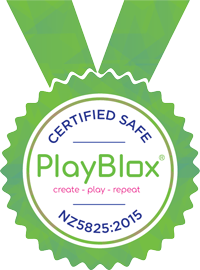 Create your new play experience today.