INTERMEDIATE AND HIGH SCHOOL POWERPLAY RANGE
The importance of maintaining physical movement into the teenage years is essential. Children's daily activities should include movements that challenge skill and coordination but also bones, joints and muscles safely which in turn improves strength, flexibility and posture.

In a world led by technology, it is becoming harder to maintain those crucial outdoor play experiences that improve both mental and physical wellbeing to carry through into the adult years.
Developing our PowerPlay range has seen the research of developing growing bodies combined with our already established and proven playground equipment create a simple yet effective play structure for older children.
Bridging the gap between our last playground experience as a pre-teen and our first adulthood encounters in the work force, gym or social spaces, these structures serve purpose of strength, confidence, and coordination skills.
THE BENEFITS OF POWERPLAY EQUIPMENT
Physical activity guidelines for teens recommend that they get 1 hour or more of moderate to strong physical activity daily. In addition, muscle-strengthening and bone strengthening physical activity should be included at least 3 days a week.
The strength of your body starts with your hands, so grip strength is extremely important. It affects most muscle groups you use and a lot of everyday tasks we perform – opening bottles, turning handles, lifting and carrying objects, grasping a steering wheel, etc. The PowerPlay range will promote boundless grip strength opportunities.
On top of all the physical benefits, exercise will improve focus and attention, and promote a better outlook which ideally leads back to the classroom and outside of the school gates.
Our design team can work with you to create your own custom Fitness Trail at your school or community, through our free 3D CAD service. Using your choice of equipment and plans  of your site we can work out the most efficient, challenging, and exciting playground. See our catalogue for examples of fitness trail combo designs.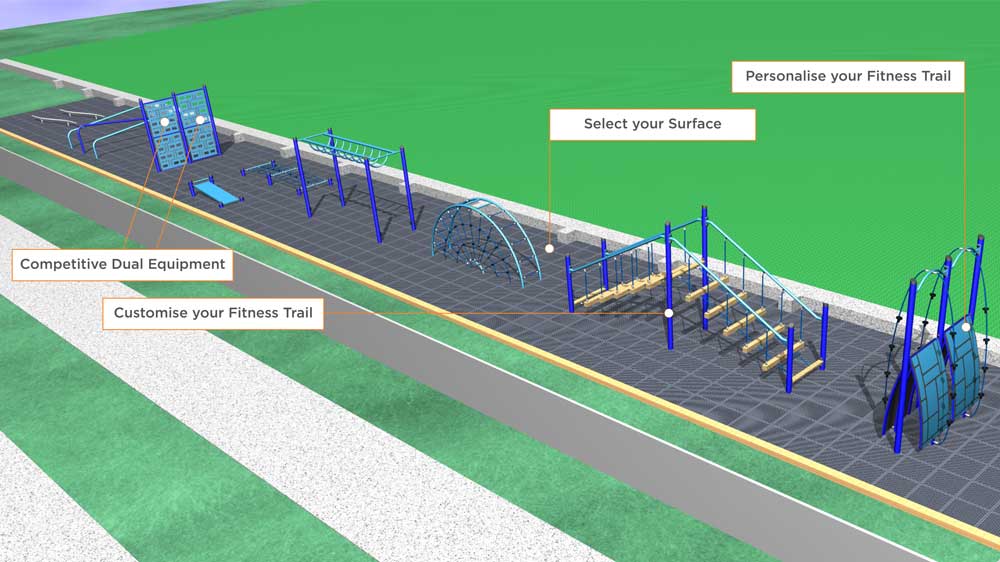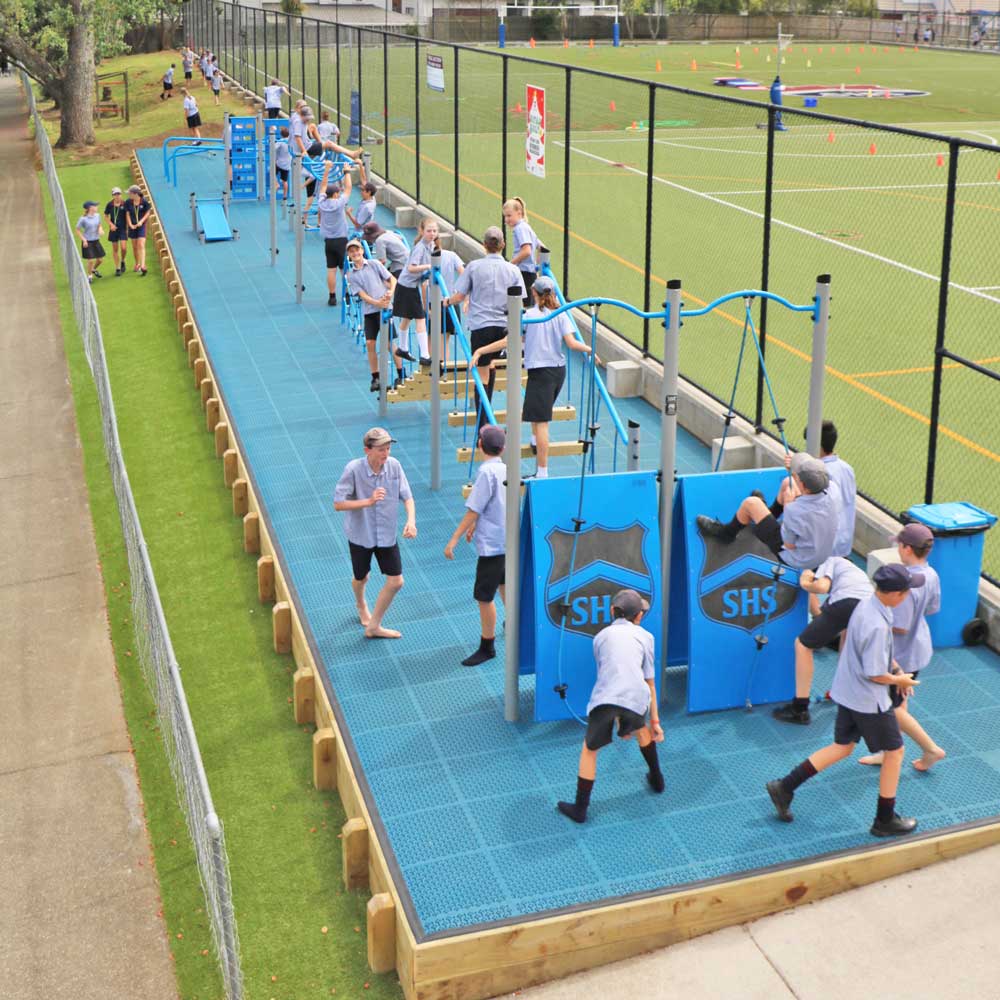 Custom Fitness Trail Design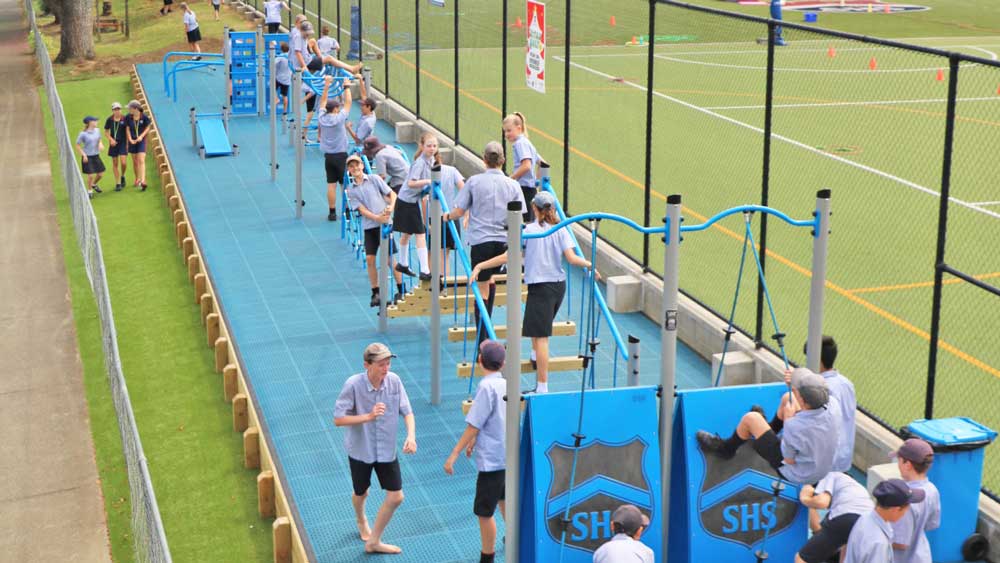 Fitness trails can be designed to suit a range of ages from Primary to Intermediate and Secondary school students. They are not only a fun addition to any playground but help students improve both mental and physical wellbeing, building strength in areas such as the upper body, core, grip, joints and also enhancing flexibility.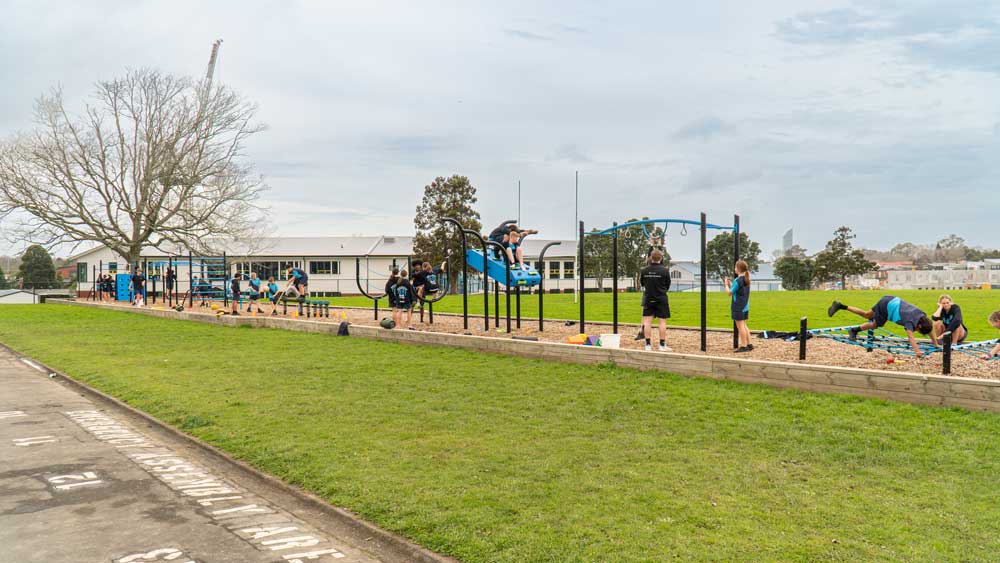 The Ultimate Outdoor Strength and Conditioning Course. The Olympus Warrior Course has been developed with the Athlete Development team at AUT Millennium. The Olympus Warrior Course is a terrific addition to any physical development.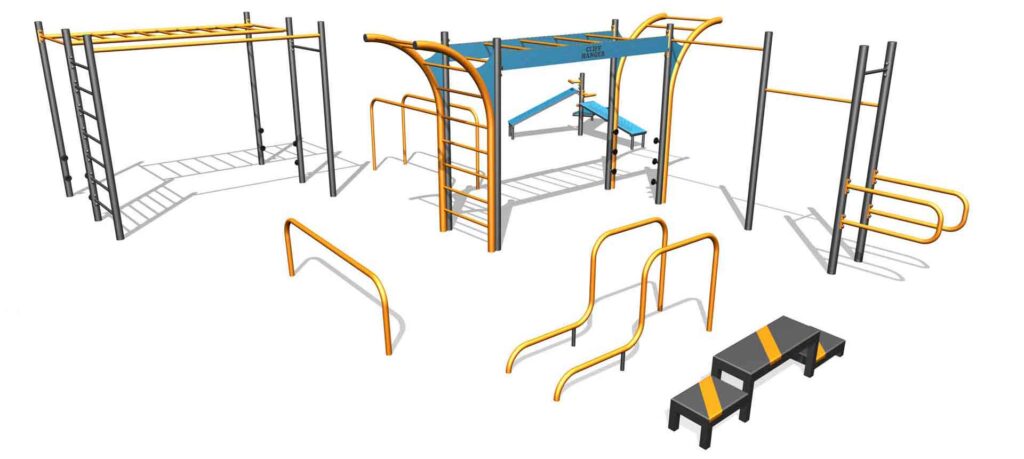 Introducing the new Calisthenics Range from Park Supplies & Playgrounds which includes all the benefits of an indoor gymnasium that are made to withstand the outdoor elements.
OLYMPUS WARRIOR EQUIPMENT
READ OUR LATEST FITNESS TRAIL CASE STUDIES BELOW:
PARK SUPPLIES & PLAYGROUNDS: MAKING BUILDING A NEW PLAYGROUND EASY.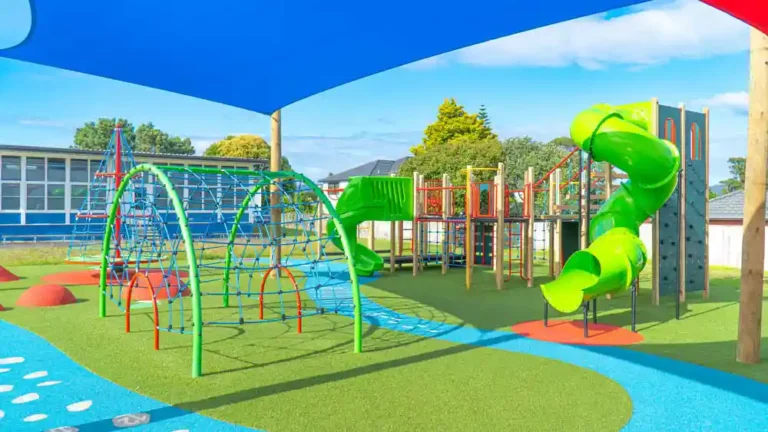 Simply contact us to start planning your next project, or if you prefer browse our products online and create your own enquiry cart!