At the heart of everything we do is FUN and PLAY and PlayBlox epitomises this philosophy. Not only can you configure your play space as you want to, you can incorporate specific tactile experiences which include upper-body strength, balance, agility, problem-solving, role play and most importantly, fun. These stimulate curiosity
and create adventure for your children whilst developing their fine motor skills and their learning.
We know how important it is to ensure your children are playing on safe play structures. As the leaders in New Zealand's Park and Playground development our focus has always been on ensuring that children's safety is paramount. PlayBlox is designed for safety and built to the NZS5828:2015 + Appendix Supervised A ECE Playground Safety Standards.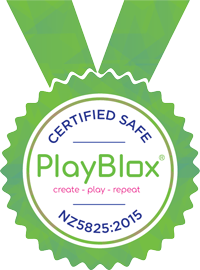 Create your new play experience today.